The Montessori Philosophy
The Montessori philosophy is a worldwide recognized method of teaching founded in the early 1900's based upon a lifetime of research by Dr. Maria Montessori, an Italian Physician. Her philosophy is based on the natural development of children and their normal instinctive desire to explore and discover how to learn from the world around them.
Children under six have extraordinary powers of the mind. They have a universal, once-in-a-lifetime ability to absorb knowledge from their surroundings. They take in their environment, the physical space, the language and movement of adults and other children.
In addition to academics, the Montessori methods of teaching encompass other areas of a child's development. Dr. Maria Montessori believed that it is equally important to develop children socially, physically, and emotionally. In this environment children learn to be kind and courteous to others, work independently, become self-disciplined and learn to take positive action.
To develop a positive attitude toward himself/herself in the classroom and in life.
To enhance self-confidence and become an independent learner.
To develop good habits of concentration in his/her work.
To develop initiative and persistence.
To achieve inner security and common sense in normal order.
To help each child develop his/her sensory motor skills.
To assist his/her social development habits.
To challenge and develop higher level of intelligence and imagination.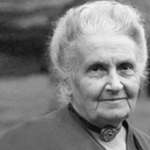 "Montessori is an education for independence; Preparing not just for school, but for life."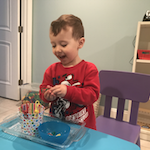 Practical Life: 
In this curriculum area the children are invited to work on real life tasks such as care of self and environment, which develop:
Concentration & Coordination

Independence & Order

Responsibility & Self-Esteem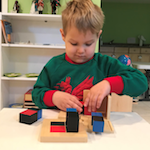 Sensorial: 
The Sensorial area is designed to isolate specific attributes of a material, such as thick and thin, large and small, long and short and to order the varying degrees of each. It is through the children's work with these Sensorial materials, that their senses are awakened. Dr. Montessori observed that it is through the education of the senses that the child begins his/her journey to create the adult he will become.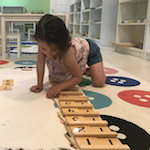 Math:
Rather than learning math facts by a rote method, there are many beautiful and concrete math materials in the Montessori classroom. They are designed to attract the child to experience abstract concepts through the manipulation of these concrete materials.
We begin with the quantities of 1-10. As the child masters these concepts, the teens and tens are introduced along with the basic operations of addition and subtraction. The next level of activity is the introduction to the decimal material.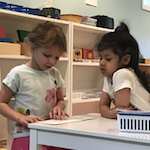 Language:
There are two areas of the Language curriculum: pre reading/reading and writing. The sandpaper letters are used to introduce the sounds the letters make and the moveable alphabet is used to build and decode words. The children are introduced to the sounds the letters make as opposed to the names, because that's how we read. The entire classroom is ultimately a language learning experience.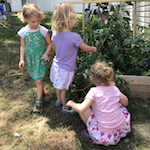 Science & Geography:
We explore many lands…their customs, language, food, dress, music, etc… As young scientists we observe with wonder the world around us including plants, animals, land, sky and our great big vegetable garden!